Our patio furniture covers help preserve and prolong the life of your outdoor furniture. RainProofTM fabric combines style and durability with taped seam construction to help keep rain out so that you're always ready to entertain!
A Stylish Way to Create Privacy
Metal panels and screens provide a stylish and functional alternative that can be used for fencing, privacy walls, interior/exterior design panels, backdrops, and more!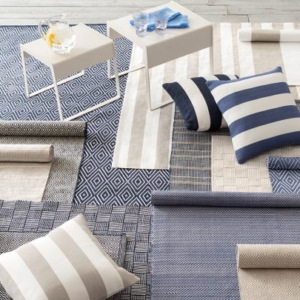 Outdoor Rugs & Toss Cushions
Bringing Comfort and Design Together
Cheer up neutral furniture pieces with bold outdoor accents! From teals and turquoise to corals and tangerines, add a pop of colour for your accent pillows or rugs! Don´t be afraid to mix patterns and textures it´s all about having fun with your space and creating an outdoor environment that invites you in and makes you want to stay awhile!
Ready to Transform Your Outdoor Living Area?