OUR CLEARANCE CENTER IS NOW OPEN
HUGE SAVINGS BLOW OUT PRICING
$10 DÉCOR TABLE, TOSS CUSHIONS
STARTING AT $10
ANY CLIENT WANTING ORWW FURNITURE CUSHIONS COME MAKE US AN OFFER ON REMAINING 2019-2020 STOCK EVERYTHING MUST GO!
MISC FURNITURE CUSHIONS STARTING AT $25
ALL DÉCOR INCLUDING PLANTERS AND ART WORK 25% OFF REGULAR PRICE
SUNBRELLA TOSS CUSHIONS 30% OFF
FURNITURE SETS BELOW COST
HURRY IN BEFORE IT IS GONE BABY GONE!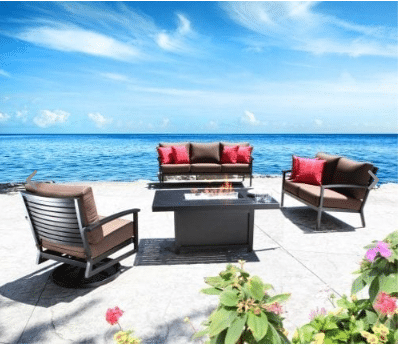 • Contemporary Outdoor Fire Table
• Propane and Natural Gas
• North American Brand Stainless Steel Burner
• Fire Glass Burner Cover Included
• 60,000 BTU's
• CSA Certified
• Fits a Vertical Propane Tank
• Dark Rum Finish
• 50″ L x 32″ W x 22″ H
Enter Your Contact Info to Win!
or Visit Our 7000 sq ft Showroom
10011 – 169th Street Edmonton, AB.
**Winner will be announced July 15th**
Ready to Transform Your Outdoor Living Area?