Your backyard is more than just a patch of grass—it's a sanctuary waiting to be discovered and enjoyed. With the arrival of warmer weather, now is the perfect time to make the most of your outdoor space and create unforgettable memories right at home. In this blog post, we will explore a range of ideas and activities to help you maximize your backyard enjoyment, making it a hub of relaxation, recreation, and connection with nature.
Outdoor Lounge Area: Create a cozy lounge space with comfortable seating, plush cushions, and a stylish outdoor rug. Add a coffee table or side tables for convenience and incorporate shade elements like umbrellas or a pergola for relief from the sun.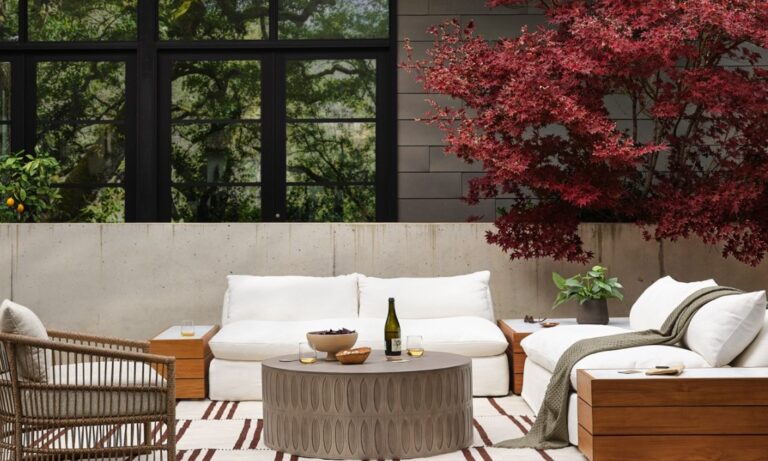 Outdoor Kitchen/Grilling Station:
Install an outdoor kitchen or grilling station complete with a built-in barbecue, countertop space, and storage. This setup will make cooking and entertaining in your backyard a breeze.
Fire Pit:
Install a fire pit or a fire table for those cool summer nights. It's perfect for roasting marshmallows, telling stories, and creating a warm and inviting atmosphere for gatherings.
Swimming Pool or Hot Tub:
If space and budget allow, consider adding a swimming pool or hot tub to your backyard. These water features provide endless hours of fun, relaxation, and relief from the summer heat.
Outdoor Dining Area:
Set up a dedicated outdoor dining area with a large table and comfortable chairs. It is an excellent space for enjoying meals al fresco with family and friends.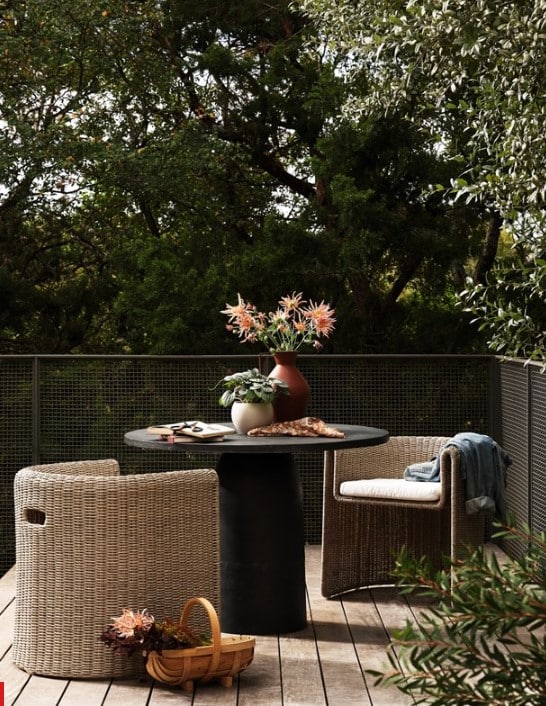 Outdoor Entertainment Center:
Install an outdoor TV or projector screen to create an outdoor entertainment center. It is perfect for hosting movie nights, watching sports events, or playing video games under the stars.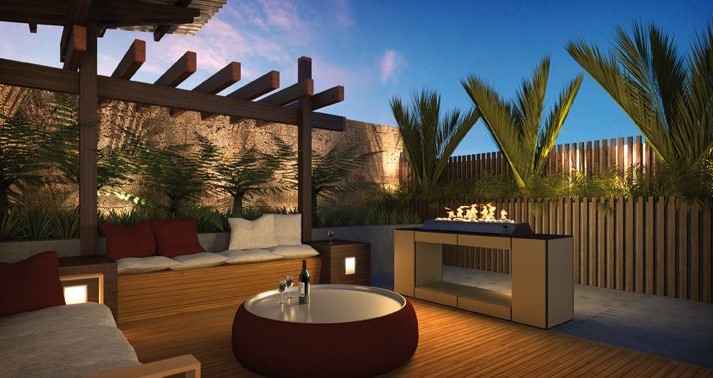 Garden and Greenery:
Design and maintain a vibrant garden with a variety of flowers, plants, and herbs. Surrounding yourself with lush greenery adds beauty and tranquility to your outdoor space.
Outdoor Lighting:
Illuminate your backyard with strategically placed outdoor lighting. String lights, solar-powered lanterns, and pathway lights not only enhance visibility but also create a magical ambiance during nighttime.
Play Area for Kids:
Dedicate a section of your backyard to a play area for children. Install swings, slides, and a playset to keep the little ones entertained and active throughout the summer.
Relaxation Zone:
Create a peaceful retreat with hammocks, loungers, or a daybed. This space is perfect for reading, napping, or simply unwinding with a refreshing drink.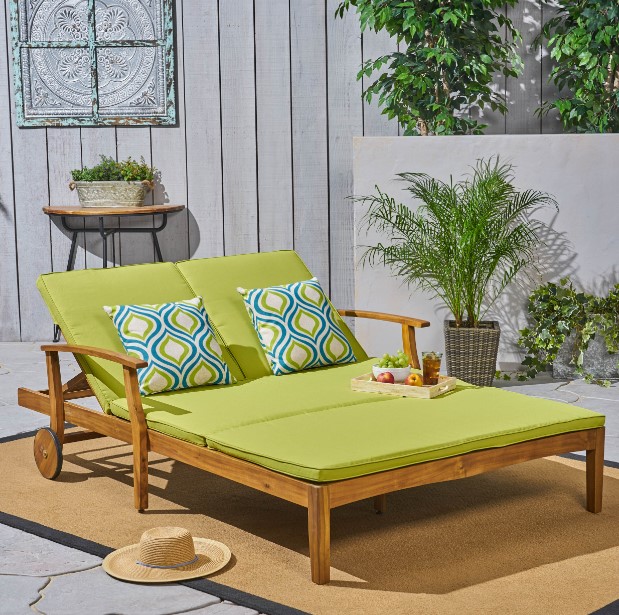 Water Features:
Incorporate water features such as fountains, ponds, or waterfalls. The soothing sound of running water adds tranquility to your backyard oasis.
Outdoor Games and Sports:
Set up an area for outdoor games like cornhole, bocce ball, or volleyball. It encourages friendly competition and active play for all ages.
Outdoor Exercise Area:
Dedicate a space for outdoor exercise, such as a yoga or workout area. Enjoy the benefits of fresh air and nature while staying fit and healthy.
Outdoor Shower:
Install an outdoor shower for a refreshing rinse after a swim or to cool down on hot summer days.
Vertical Garden or Green Wall:
Utilize vertical space by creating a vertical garden or a green wall. It adds a touch of elegance and maximizes the use of space in smaller backyards.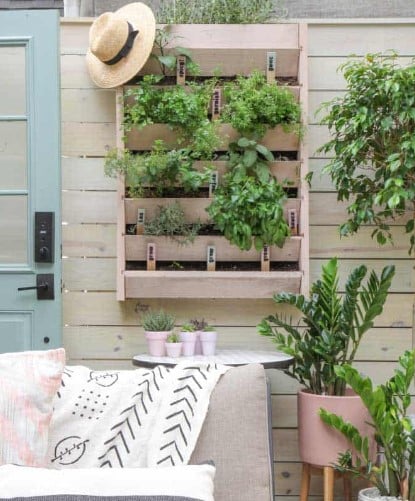 Outdoor Bar:
Install an outdoor bar or a beverage station where you can mix up refreshing drinks and entertain guests. Include a mini-fridge or a built-in cooler to keep beverages chilled.
Cozy Reading Nook:
Set up a cozy reading nook in a shaded corner of your backyard. Add a comfortable chair, a small table, and some shelves for your favorite books.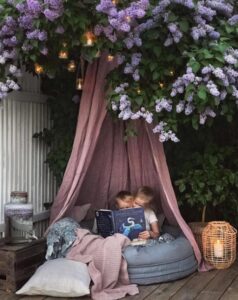 DIY Water Sprinklers:
Beat the heat with DIY water sprinklers or misters. Set them up in your backyard to create a fun and cooling play area for kids and adults alike.
Outdoor Movie Theater:
Create an outdoor movie theater by setting up a projector, a screen, and comfortable seating. Enjoy movies under the stars with family and friends.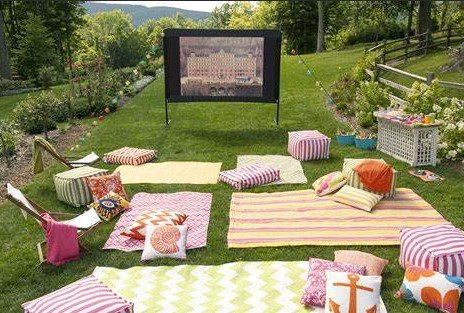 Pergola or Shade Sail:
Install a pergola or shade sail to provide shade and protection from the sun. It creates a comfortable outdoor space even on hot summer days.
Outdoor Art and Décor:
Enhance the visual appeal of your backyard with outdoor art pieces, sculptures, and decorative accents. Choose weather-resistant materials to ensure durability.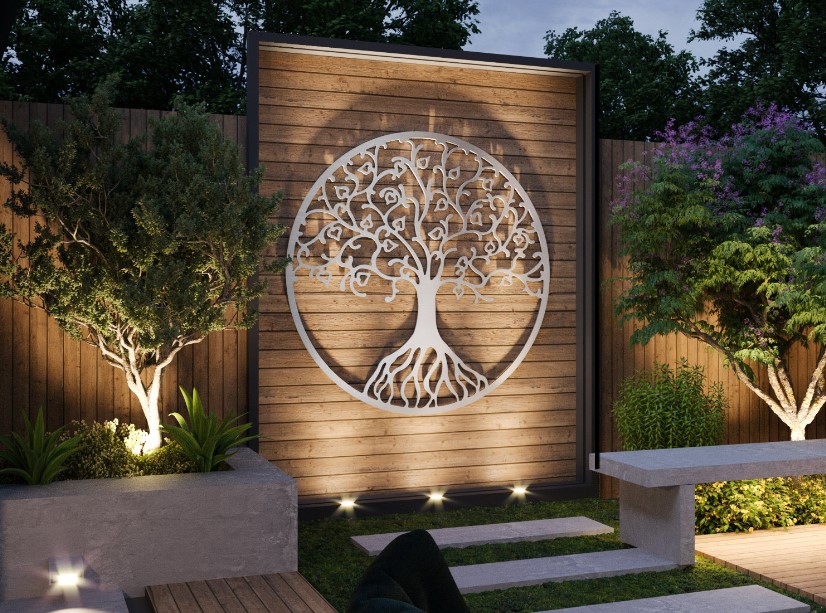 Outdoor Sound System:
Install an outdoor sound system to enjoy your favorite music or podcasts while spending time in your backyard. opt for weatherproof speakers for longevity.
Outdoor Office Space:
Create an outdoor office space where you can work, or study surrounded by nature. Set up a desk, chair, and good lighting for a productive and inspiring atmosphere.
Hammock Zone:
Hang hammocks between trees or on a hammock stand for a relaxing lounging experience. It is the perfect spot for a leisurely nap or stargazing.
Bird Feeders and Birdhouses:
Attract colorful birds to your backyard by setting up bird feeders and birdhouses. Enjoy the sights and sounds of chirping birds throughout the summer.
Outdoor Meditation Area:
Dedicate a tranquil corner of your backyard for meditation and mindfulness practice. Use cushions, a small fountain, or wind chimes to create a serene atmosphere.
Outdoor Pet Haven:
Design a pet-friendly space with shade, water bowls, and toys for your furry friends. They will love having their own area to play and relax outdoors.
Outdoor Art Studio:
Set up an outdoor art studio with easels, canvases, and art supplies. Get inspired by nature and let your creativity flow in the open air.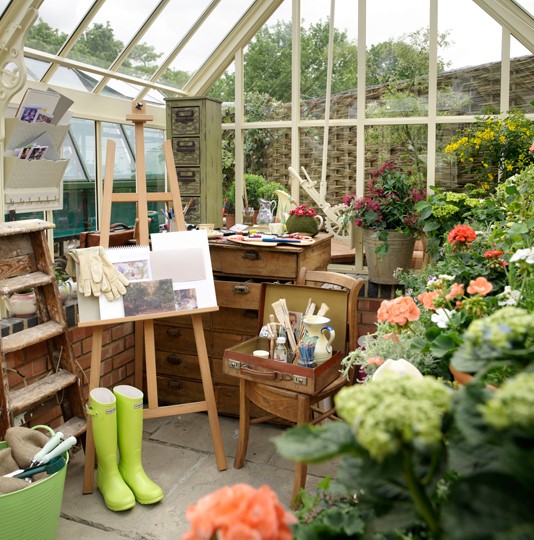 Your backyard holds immense potential for enjoyment, relaxation, and connection with nature. By incorporating these ideas into your outdoor routine, you can transform your backyard into a haven of joy and rejuvenation. Embrace the beauty of your surroundings, indulge in outdoor activities, and create cherished memories that will last a lifetime. Make it a priority to enjoy your backyard to the fullest and discover the limitless possibilities it offers right outside your door.