Everything tastes better outside
You've basked in the sun all day, why go inside for dinner? Outdoor dining tables and chairs have evolved to look just as good outside as they would in your dining area inside!
Your food doesn't have to be the only thing that's hot at your table.
Many fire table suppliers now provide the option of choosing your table height. Most often your choices are Chat height, generally about 19"-20"H, Dining height 30"-32"H, and Bar height 42"- 44" H. These tables typically run off natural gas, or propane that is conveniently stored underneath the table with an easy access door to change out your 20 lb. bottles when needed. Heat sources range from 50,000 BTU to 90,000 BTU depending on the size of the burner, providing just the right amount of heat to enjoy your meals, or a card game well after the sun has set! The customizable options don't stop at the design & height of these tables, hundreds of different fire table accessories options are available from colored tempered glass beads, crushed glass, to lava rock, and faux wood, along with burner covers and wind guards helping create something mesmerizing for your guests to see while they dine. The last advantage for choosing a fire table – no "fire ban" worries… because of the controlled and spark-less flame you'll be able to enjoy the heat all summer long.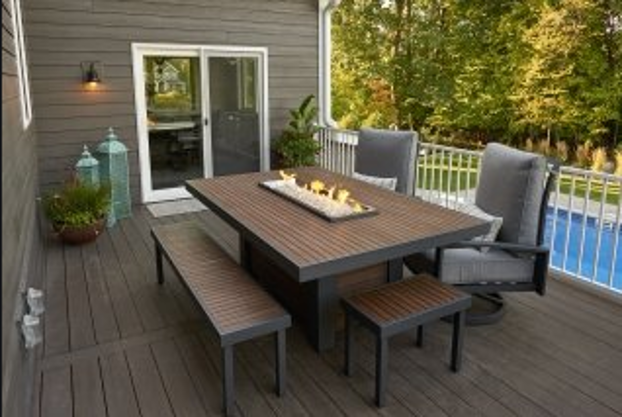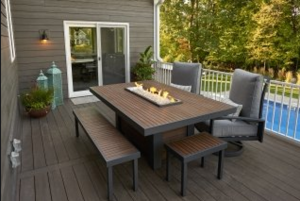 Bring functionality, comfort & style to the table.  
Bench seating for dining is that perfect amount of modern with a traditional twist. Perfect for little ones and lovebirds – something to look in to when it's time to invest in a new outdoor dining table. Benches not your thing? The luxury of swivel club chairs has quickly made their way into the norm of outdoor dining seat cushions and all…  giving you and your guests the relaxation of lounging while dining. No need to get up after dinner at your table, everyone will be content right where they are. Tables & benches made of concrete, teak, iron, stone, and durawood are all produced of raw materials – meaning little to no maintenance and worry-free outdoor storage of your dining table.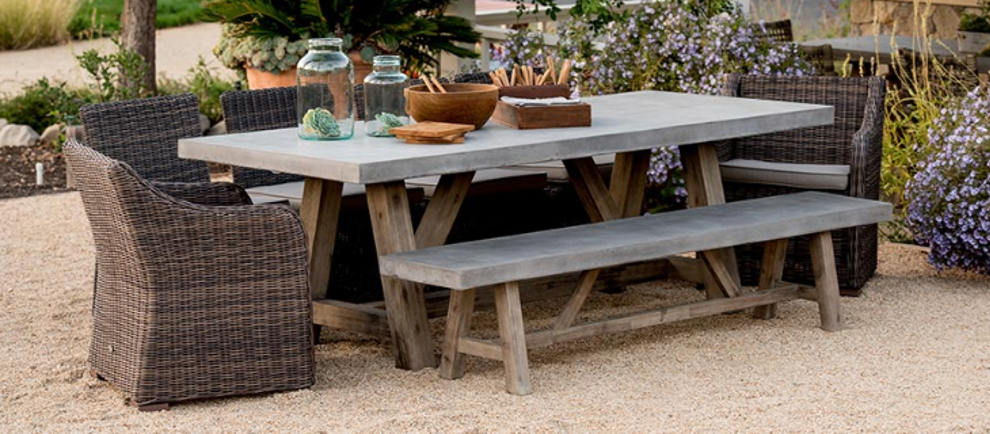 Throw a little shade on your guests while they dine
If you are not in a covered deck or sun room, eating outside when the suns out can be a little uncomfortable. Good thing umbrellas got you covered… If your table is equipped with an umbrella hole a 11' x 8' might just be the perfect fit and with tilt capabilities these umbrellas can be moved with the sun to provide the perfect amount of coverage for everyone at the table. Cantilever umbrellas would be an ideal option if your table is not made to hold a standalone umbrella. These mac daddy umbrellas give the ultimate coverage on not only your dining table but depending on your space can cover the entire deck with sizes ranging from 9'-11' along with 360 degree turning capability and fade resistant Sunbrella it's a functional addition to any outdoor space.
Your space, your design
Custom, Custom, Custom! Whether your patio area is big or small – there is always a table that will fit your space, and it doesn't have to come right out of a box. Buying your table and your chairs separately gives you the ability to really make your statement! Options like choosing a tabletop, a table base, a dining chair with arm rests or go arm-less for a more modern look or a complete space saver… feeling the power yet? Choose if you want cushions on your dining chairs, and if you do, choose from hundreds of fade resistant materials to add that touch of color. Maybe you prefer sling dining chairs? Well, choose from tons of different sling colors as well. Don't know where to start? Start with ORWW!